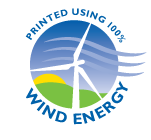 Wheal-Grace pulls energy from the grid just like every printing company. We must pull energy from the grid in order to make sure that we have a constant power flow for our printing presses and prepress equipment.
In order to compensate for the power we pull from the grid we purchase wind energy credits for the energy we consume from the grid. In fact we replace, with wind power, an equal amount of energy used by our building - we purchase enough wind energy credits to put back into the grid 100% of the power having been produced by wind power. This allows our customers to say that their print jobs are 100% green and are actually helping to make the printing industry greener.
Wheal-Grace is also conscious about our carbon footprint in our office. We employ rigorous recycling in our office and we make sure that only legal and essential documents are printed to conserve paper. Any non essential documents which are printed by mistake are returned to the recycled paper area of the office for reuse in any other printing that we need to do.